Do you need someone to talk about your problems, but are confused about where to start? You might find yourself incapable of handling daily life struggles and getting on through mental health problems like sleeplessness, lack of motivation, and stress, and you are helplessly finding someone who can reduce your problems. 
Finding yourself with these kinds of problems is a very common thing. Several studies are covering mental health disorders in people. According to a statistics report, per year an estimated 60 percent of Americans who are 18 and older, mostly 1 in 4 adults, suffer from mental health disorders. But here's the good news, Most of these psychological ailments are easily diagnosable without taking medications. 
Keeping these realities in mind, this blog will help you to find out how to find someone to talk to about your problems, where you can find them, and how to find therapies for you. 
Let's start with knowing what are the advantages of sharing your problems with someone.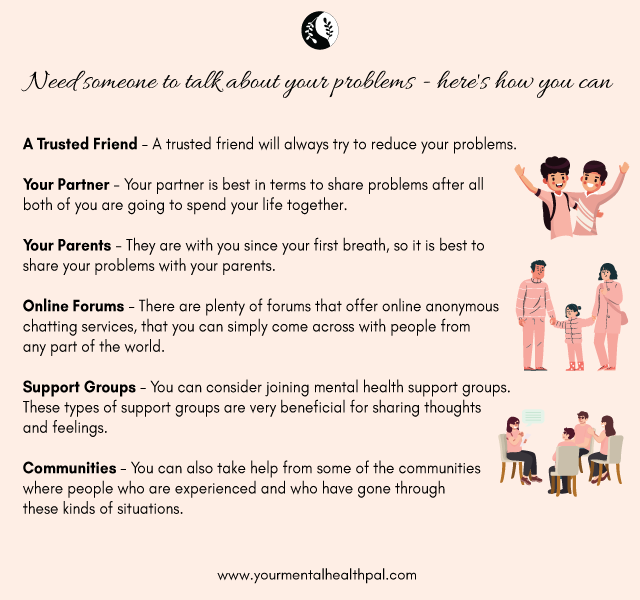 Benefits of sharing your problems
Let's talk about these problems seriously. Talking can help you in several ways. In case you are going through a hard time or any type of mental health disorder, talking with someone can help you to break down your problems and eliminate them. 
According to UCLA, talking can reduce the response of the amygdala, which is responsible for emotions like anxiety, depression, and fear. Finding someone to talk to helps prevent feelings of loneliness. Even if you are sharing with your friend, who simply has no idea or expertise on mental health, they also can give you a sense of clarity and strategies to fight your problems. Let's take a glimpse of the benefits of talking with someone about your problems.
Help to get away out
Expressing your problems can help you in many ways. During stress, we often lose control over the logical part of the brain, as a result, we sometimes make some big mistakes in our life. As an example, sharing your problems with someone who has already gone through those difficulties, can give you a way out of your problems. 
Give a different perspective
We all act upon information and information by its very nature is limited. There might be some problem with your perspective of living your life and that is affecting you. Talking about your problem with another person who has a different perspective can help you to see through a broader vision and approach your problems differently. 
Relieve your pressure
You might have noticed that sometimes sharing your feelings with someone gives a sense of relief and freedom. Keeping this fact in mind, you can take off some amount of pressure by sharing your problems. 
Realize you are not alone
You may often feel why your life is full of burdens. By expressing your emotions, you can realize the fact that you are not alone with these kinds of problems and this will help to take a step against mental health issues. You can come in touch with people who are facing the same problems as you and this may also give some sense of comfort. 
Talking about your problems with someone is the first integral step to take to eliminate your mental health problems. After going through the first step, you have to know the second step which is to find someone to share your problems with. 
How to find someone to share your problem
To express your feelings, you have to find someone also interested to hear you. You probably heard about an old saying that sharing your problems is reducing your problems. 
A trusted friend
Sometimes you just need someone to tell off your thoughts, just to get some relief. You have opened up yourself only for sharing, not to get some solutions. A close friend of yours with whom you can do it. 
Your partner
Your partner is someone who will stay with you forever to the end of your life. So, opening up to your partner is the best-recommended thing to get some satisfaction. This will also help to build more trust and understanding between yourselves. 
Your parents
Sharing yourself with your parents can be very beneficial because they know everything about you from your childhood. Your character has got its shape from your parents. So, this is also the best thing to do. 
But in some cases, if you are unable to get help from them, there is nothing to worry about. We are mentioning some other places you can consider of – 
Online forums– There are plenty of forums that offer online anonymous chatting services, that you can simply come across with people from any part of the world. From thousands of people, you will get someone who will show interest to hear your daily life struggles. An example of these kinds of services like – Omegle. Omegle is a website where you can meet thousands of people regarding your interest, and in case you are shy to show your face, you can simply use their text message service.
Support groups – You can consider joining some mental health support groups. These kinds of groups are mostly free and they can be very helpful also for building a good friend base. These types of support groups are very beneficial for sharing thoughts and feelings.
Communities – You can also take help from some of the communities where people who are experienced and who have gone through these kinds of situations. One of the best platforms to consider is quora. Quora is a very popular platform where people can submit their questions to get answers from people from everywhere. 
Your friends and family are always there to fulfill your needs. You will also find it helpful to join online platforms, support groups, and communities. But, they don't have any type of experience to permanently solve these kinds of problems. But in case, taking help from your family is unable to help you and your complications are increasing day by day, then you shouldn't wait to consult a psychologist or any kind of therapy. 
Online Therapy
Although today we are much more educated and aware to handle these problems, there is still a kind of stigma in us, so, we don't consider psychologists as our first choice. So, if you are that kind of person, who feels stigmatized, consult a psychologist, and you can take the help of online therapies. 
Online therapies, also known as counseling, and teletherapy, help people suffering from mental health disorders, through the internet. With online therapies, you can share your complications with people who are experienced in this field, and you can get accurate solutions from them. 
Ways of online therapies
Real-time talking
Text messaging
Email
Video chat
With this variety of mediums, you can communicate with a specialist, to share and get rid of problems. 
We think this article will be very effective to specify what you should do if you need someone to talk about your problems. We have understood how to find someone to talk to about your problems and where you can find them. Comment down how you will share your problems.