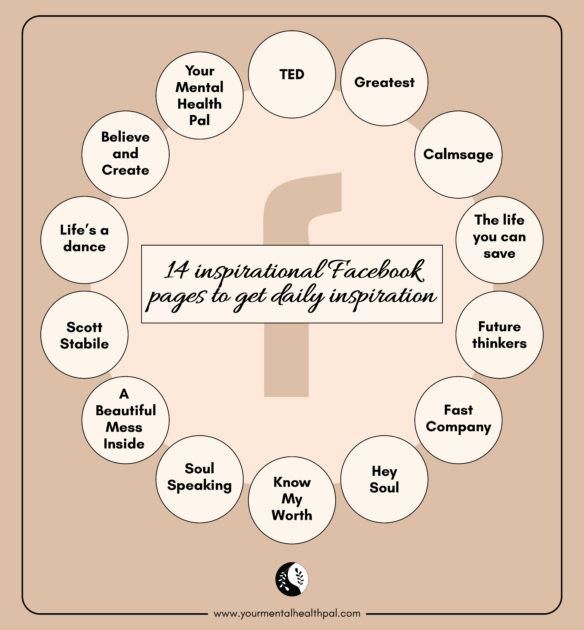 From billions of useful Facebook pages, we have fetched the top 14 to check the number of inspirational Facebook pages to get daily inspiration. They will help you be productive and efficient with managing your time amidst dealing with everyday life distractions.
You have noticed that you wake up full of energy and inspiration every morning with a scheduled to-do list of productive and meaningful tasks. But, with the clock's motion, you often find yourself entrapped by social platforms. As a result, you fail to accomplish your essential functions in a limited time by procrastinating. These motivational facebook page name suggestions are designed to help you to give daily inspiration. 
So, it will be apt for you to utilize social media to get inspiration instead of wasting time with it. By following these inspirational Facebook pages, you will automatically save your time without being entrapped by the unclogged abstracts of social media.
Top best motivational pages on Facebook
TED
The one-pointed and clear vision of the TED community is sharing ideas worth sharing. This inspirational Facebook page offers different perspectives of life, an understanding of varying societal concepts, and valuable experiences of people who have achieved something in their life. This inspirational Facebook page mostly posts how-to videos and other content explaining various topics.
Greatest
This Facebook page delivers inside-out information about our bodies and topics related to personality development and mental health support. Follow them to know inspirational facts on personal development and fitness hacks. 
Calmsage
Calmsage is a website that guides mental and physical health wellness. This page explains various mental health illnesses, disorders like anxiety, stress, and tips on getting rid of those cases. The latest posts from them were information about the bioenergetic theory.
The Life You Can Save
According to a study, 2.5 million children die from extreme poverty and malnutrition. The Life You Can Save is a non-profit organization that organizes donation camps for children suffering from extreme poverty. You can see their regular inspiration posts of numerous people who survived any kind of crisis and donation stories worldwide.
Future Thinkers
This is a public group on Facebook that helps people evolve, adapt and update with the changing world. To get inspiration, developing with time can help as a booster. Their regular posts include information about future technologies, psychological growth, NFTs, and changes in lifestyle and psyche.
Fast Company 
In this world of manipulative advertisements, Getting original and quality news is essential. That's why we have considered recommending this Facebook page to you. You will get various information irrespective of the genre like technology, lifestyle, travel, health, and many more to keep you updated and enhance your general knowledge. Some of the topics they have touched on recently are fighting climate anxiety, fighting diabetes, etc.
Hey Soul
This Facebook page admin works their best to inspire people with new thought perspectives through short yet meaningful posters. They will put a vibrant smile on your face with their inspiring posts. 
Know My Worth
This group inspires and helps relax people by allowing them to share everyone's life incidents and their thoughts and reflect on them. By following their page, you can meet new people with unique perspectives and thought patterns. They post more than 10 times a day, so you will not be out of energy.
Soul Speaking
This inspirational Facebook page will help you listen to your soul by influencing yourself through your understanding. By seeing your posts, You will get clarity about the complex walkaways of life, emotions, and others. 
A Beautiful Mess Inside
With a messy tonality, the admin of a beautiful mess inside explains every complex life situation and life problem through self-love. You will get every kind of taste from their way of writing. All over, this is a beautiful page to follow for daily inspiration.
Scott Stabile
Scott Stabile is a fantastic writer who loves to write about subtle daily life expressions. You will get a sense of freedom and self-love by going through his posts. 
Life's A Dance
This page is solely focused on getting inspiration and feeling satisfied with an interesting philosophy. You will get different solutions for every kind of life with their well-written and edited posters. 
Believe And Create
Believe And Create offers a platform for sharing everyone's ideas and views to do great with our lives. They strongly suggest the power of believing in making any life changes. 
Your Mental Health Pal 
You Mental Health Pal is one of the inspiring motivational Facebook pages that serve content relevant to mental health problems and solutions. You will find them with very satisfying and relevant content. 
Conclusion
These 14 inspirational Facebook pages to get daily inspiration will help you as that daily dose of inspiration when you think of ruining your limited time on social media. But, there are tons of Facebook pages that serve daily inspirational doses. It is not possible to explain each of them. So, let us know which Facebook page you follow to get inspired in the comments.